The cold winter weather is coming upon us once more, and that typically means heavy winter storms. Heavy snow and ice can knock out the power to your home, leaving you cold and in the dark. Having a home generator on standby can save a lot of stress during winter storms. In fact, generators can come in handy any time of the year, as power can go out in any season. Complete losses of power are quite common during peak summer days when most homeowners are running air conditioners. To protect your home and family all year long, having a generator prepared and ready to go is a good idea. Being without electricity is inconvenient and makes daily life and your usual routine practically impossible. Preparing ahead of the winter storms with standby generators can keep homes lit, warm and cozy. Your family will appreciate having running water and electricity.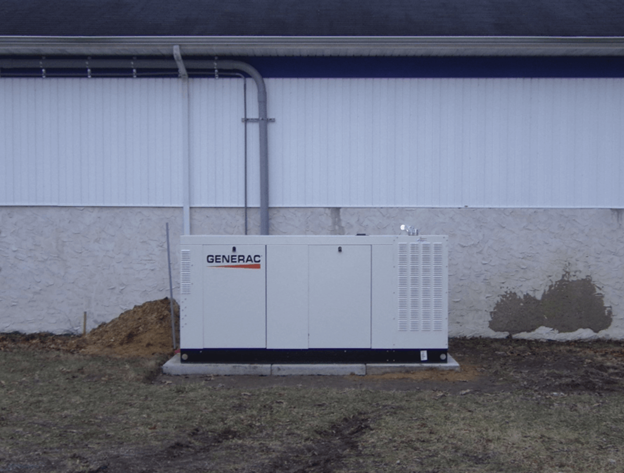 Standby Generators | Advantages of Generators
Homeowners who prepare with standby generators do not have to worry about the inconvenience of heavy storms. You and your household can enjoy running water to wash, prepare food and flush toilets. Food in your refrigerator will not spoil, and you can still enjoy home cooked meals. If your home has a sump pump, a generator keeps it running through heavy storms, when you need it most. Basements and other areas can flood quickly if your pump stops working. Also, if you do not have a wood or gas fireplace, you need electricity to heat your home and protect your family.
Standby Generators | Choosing the Right Generator
Because households and homes vary in size, you can decide which generator works best for you. You can also decide how many circuits you want to keep up and running. If you are only concerned about necessities such as hot running water, sump pumps and fridges, consider a smaller unit. A more powerful generator can power more things in your home, such as lights, kitchen appliances and security systems. Or, if you want to power your whole home in its entirety, a whole house package keeps everything running. With a whole house package, there is no inconvenience or disruptions from storms.
Standby Generators | Staying Prepared
Staying prepared and ahead of emergency situations takes a little planning to ensure your new generator is in prime condition. There are easy steps you can take to be sure your generator is ready to go. Once a week, schedule a time to turn your generator on at full capacity. This will keep it primed and ready, just as you would turn over a car. Check oil and coolant levels regularly, too, to make sure there are no leaks, and your unit has enough of both. At least once a year, schedule a complete maintenance check with a qualified technician to ensure it's in good condition.
Power outages are never fun, at any time of the year. They can leave your home dark, and cold, and disrupt your daily routine, making simple tasks impossible. You can prepare for outages, however, with a generator for your home. With varying sizes of units, you can choose the perfect one to suit your requirements. Whether you want to power a few necessities, or your entire home, you can find just what you need. Installing a generator can keep your home warm, protect your family and keep pipes from freezing. After deciding on the right model for your family, it is important to maintain it properly. Contacting a qualified technician to inspect standby generators keeps them in good working order. Then you can face the next storm with security and peace of mind.
Monmouth County Commercial Electricians
Related Posts:
Monmouth County Standby Generator Installation
Monmouth County Generator Service
Monmouth County Emergency Electrical Repair
Monmouth County Commercial Electrician
Holmdel Commercial Electrician
Old Bridge Commercial Electrician
Freehold Commercial Electrician
Matawan Commercial Electrician
Colts Neck Commercial Electrician
Monmouth County Building Automation System Installation Contractors
Monmouth County Generator Service
Monmouth County Outdoor Lighting