Searching for the best Old Bridge Commercial Electrician? There are many ways to find the best in the business. Finding the best Commercial Electrical services in New Jersey is easy. Give Mikulka a call today. By word of mouth through friends and family and through the internet. Commercial buildings have their own unique set of electrical challenges. When electrical problems happen in commercial settings, the production in the company affected. As a result, time and money are affected also. Here are a few tips on how to find the best commercial electrician.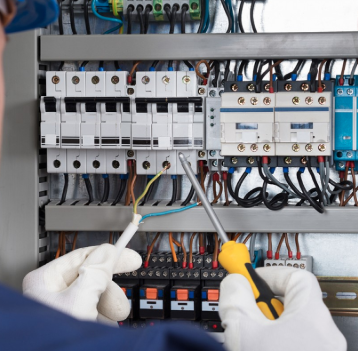 Old Bridge Commercial Electrician | Experience
While checking to see how many years of experience an electrician has is beneficial, because safety is a huge issue. When it comes to electricity in your home, you want to choose an electrician that has been working for several years in the electrical field. They also are aware of all the local building codes and has the ability to work with all types of homes and businesses. Reviewing their customers reviews and work is important, too. A company's reputation is probably the most important attribute that they have.
Old Bridge Commercial Electrician | Safety and Licenses
Always find out about the electrical work they have done in the past. Check out their safety record from others or as listed in their website. An experienced commercial electrician should have the proper licenses and insurance. Make sure they meet certain standards and re-certification on their qualifications on a regular basis. This is how they maintain their licenses with the authorities.
Old Bridge Commercial Electrician | Up to Code
Electrical and building codes change all the time. Make sure the professional you are seeking is up to date on all the building codes. Building codes are always ever changing.
Old Bridge Commercial Electrician | Price Quote
The right commercial electrician contractor will provide you with a very detailed and specific quote that will outline exactly what each expense is. Therefore, understanding what you need first helps. Letting the contractor know all your business needs is important. Maybe asking the contractor for a timeframe of when the work will be completed and how much time he will need to complete the job correctly should be included in the quote. Mikulka Electric, Inc. is here to assist your commercial enterprise in designing a complete electrical package. We install everything with safety and our cost efficiency policy is our utmost priority.
Looking for an Old Bridge Commercial Electrician? Mikulka Electric, Inc. provides expertise to make sure your electrical project is completed on time and on budget. The Mikulka is a family owned business serving the electrical needs of homeowners and businesses in Central New Jersey for over 25 years. Futhermore, we also take pride in the reputation we have built with all our customers. We strive to maintain our standard of excellence in every project we take no matter how big or small. Our relationship with our customers is very important. We handle each customer who calls us as part of the Mikulka family. We strive to be available, convenient and responsive to all our customers. Our daily goal is 100% customer satisfaction. Mikulka Electric, Inc. believes in working hard so that the customers are always satisfied. No matter the size of your commercial building or the size of your electrical project, when you hire Mikulka Electric, Inc. you get the best. Our experienced and skilled electricians take each job with the same interest. Whether it is only an installation of a new light switch or an installation of a generator, we can handle it all. Give Mikulka Electric, Inc. a call today at (732)363-8954 or come and visit our website and see all we have to offer. We look forward to serving your electrical needs.
Monmouth County Electrical Repairs
Related Posts:
Monmouth County Commercial Electrician
Holmdel Commercial Electrician