Searching for the best Tinton Falls commercial electrician? An NJ commercial electrician is someone that has been trained extensively to install and repair any electrical components and systems. There are some qualities that an excellent commercial electrician should have.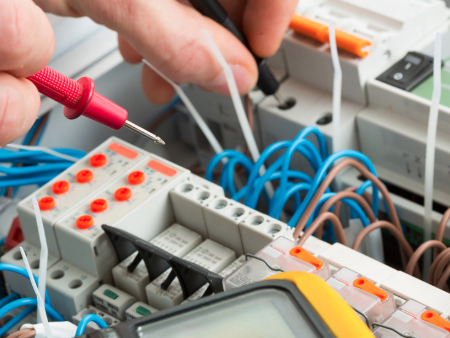 Tinton Falls Commercial Electrician | Qualities
An electrician working on commercial sites are always well educated and studies to expand his skill and knowledge on specialized electrical machinery. Quality commercial electricians can work in difficult situations moving large equipment and going through tight spaces. Their main goal is to get the job done right.
Tinton Falls Commercial Electrician | Communication
Good quality commercial electricians are team players. Being part of a team is very important and they are great communicators to their fellow workers and customers. They are able to express fully what exactly is needed and how long it will take to do the job right. A quality commercial electrician makes a productive and harmonious workplace.
Tinton Falls Commercial Electrician | Flexibility
Good commercial electricians are very flexible with their work hours because they are often needed outside of normal working hours. Machinery that needs repair can happen any time of the day or night. A commercial electrician needs to be ready to make a needed repair making sure that the equipment if running to its fullest potential.
Tinton Falls Commercial Electrician | Trust
Asking around for recommendations is wise. Asking friends and family or even coworkers for a good referral is good. Remember to meet with many commercial electricians, getting estimates and best prices to get the job done right. A commercial electrician is on time and respectful to their customers. They will have a contract in writing communicating all project detail to move forward. Finding a good commercial electrician should be a thorough process but not difficult. Picking a commercial electrician with a good reputation, safety credentials and professionalism, you will be happy with the end result of your project.
Tinton Falls Commercial Electrician | Safety
Finding a good reputable electrician is important. He needs to be licensed and insured. Also, make sure he is working according to proper code regulations. Having a warranty on their work and supplies can help you feel better about the project being completed correctly and efficiently. Do not risk safety issues to save money because in the long run it will cost more money. Commercial electricians come in all shapes and sizes, picking the right one will put your mind at ease. Mikulka Electric, Inc has been serving customers in New Jersey for over 25 years. We take pride in the reputation we have built with our customers and strive to maintain our excellence in every project no matter how big or small. Mikulka Electric's relationship with all our customers is very important to us. We treat each customer as part of the Mikulka's family. Our main goal is 100% customer satisfaction. The staff at Mikulka Electric, Inc knows that the job is complete when the customer is 100% satisfied and happy with the work done.
Finding a Tinton Falls Commercial Electrician is easy when you come to Mikulka Electric, Inc. Our experienced and skilled electricians approach each job with interest and passion. Mikulka Electric, inc is a full-service electrical company that serves the central New Jersey area. We are equipped with the expertise, experience and knowledge to get all the jobs done. We are a family owned and operated business that meets all business and homeowners electrical needs for over 2 decades. From start to finish, Mikulka Electric, Inc. provides the expertise to make sure your electrical project is completed on time and on budget. For more information, you can contact us today at (732) 363-8954 or visit our website. We look forward to serving your electrical needs!
Monmouth County Commercial Electricians
Related Posts:
Monmouth County Commercial Electrician
Holmdel Commercial Electrician
Old Bridge Commercial Electrician
Freehold Commercial Electrician
Asbury Park Commercial Electrician