Thinking of buying Monmouth County Generators? There are numerous reasons why purchasing generators is good for your home or business. A generator keeps things working smoothly without interruptions when there is a power outage.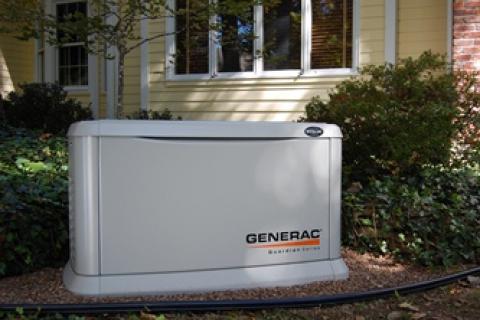 Monmouth County Generators | Shelter and Protection
Purchasing a generator shelters you and protects you during a storm. Generators can be permanently installed in your home or business or be portable. Having a permanent generator installed in your home will automatically sense when there is a loss of electricity. It will start to power up immediately when it knows it has to. With a portable generator, you need to go outside and manually start it no matter what the conditions are outside. Sump pumps always stay on with a generator to avoid flood damage. Backup generators continue to power up your sump pump even during the heaviest downpours to protect your home and family. Lights stay on to help calm the family during a power outage. Kids can be afraid of storms especially in the dark, that will be one less thing to worry about.
Monmouth County Generators | Standby Generators
Standby generators tend to have a longer running time than the portable generators. Portable generators work based on how much fuel you have on hand. A generator is useful and reliable as a power backup but being prepared with the right generator is important. A standby generator has features that a portable generator does not have. Home generators are specifically wired to your home's electrical system and is ready to work when the power goes out. Speaking to a professional technician, they can help you choose the right generator for your home or business. Standby generators give homeowners and business owners peace of mind. It helps them feel confident that their home or business generator installed will protect their family, home, business and staff.
Monmouth County Generators | Appliances
Important and critical appliances keep working even during a power outage. Generators come in different sizes and options. Protect your family by keeping the essential electronics working during the toughest storms. With a cold refrigerator and freezer, you will save money and maintain any emergency supplies and save the food inside. When having a standby generator, the generator's automatic switch does all the work for you. You can just continue enjoying all the appliances and electronics throughout the power outage. Being prepared is super important. It is best to have generators installed by professional installation specialists. They will know how to have power cycled between critical appliances as sump pumps, heater and air conditioning units.
Monmouth County Generators | Business Owners
Generators can reduce business downtime. With a generator that automatically turns on when the power goes out, can reduce time needed to set things up during a power outage. Some businesses depend on servers for their computer system among other important appliances. A generator can save small businesses time and money by assuring safety on the most critical tools of the business. When there is a power outage, business owners can rest assure that all his staff are taken care of while in the building.
Searching for the best Monmouth County Generators? Give Mikulka Electric a call today! The Mikulka Electric family has been serving the electrical needs of homeowners and business owners for over 25 years. Mikulka Electric is a proud supplier of Generac backup generators for your home or business. We take pride in the reputation we have built and strive to maintain our standard of excellence in every project, no matter how big or how small. The staff at Mikulka Electric knows that a job is not complete until the customer is 100% satisfied. Our experienced and skilled electricians approach each job with the same enthusiasm. We look forward to serving your electrical needs!
Monmouth County Commercial Electricians
Related Posts:
Monmouth County Standby Generators
Monmouth County Generator Service
Monmouth County Emergency Electrical Repair
Monmouth County Commercial Electrician
Holmdel Commercial Electrician
Old Bridge Commercial Electrician
Freehold Commercial Electrician
Matawan Commercial Electrician
Colts Neck Commercial Electrician
Monmouth County Building Automation System Installation Contractors
Monmouth County Generator Service
Monmouth County Outdoor Lighting
Monmouth County Generator Repairs