As seasons change, and temperatures rise or plummet accordingly, so does the temperature of your home. Every home needs some form of heating to protect its inhabitants from winter's frigid, icy blasts. In the heat of summer, window air conditioning units hum in every neighborhood. And, of course, in capricious spring and fall, most home owners alternate between turning heat up and down. To keep your home at a comfortable temperature no matter the time of year, consider installing one environmental system. One single unit can easily control the temperature of your entire home. With individual thermostats, it's a simple operation to keep rooms comfortable. Because you should always leave any work involving electricity to a professional, call a
Monmouth County electrical installation
company. They have the proper training and tools to do the job right. Call Monmouth County environmental control system installation professionals to make your home more comfortable.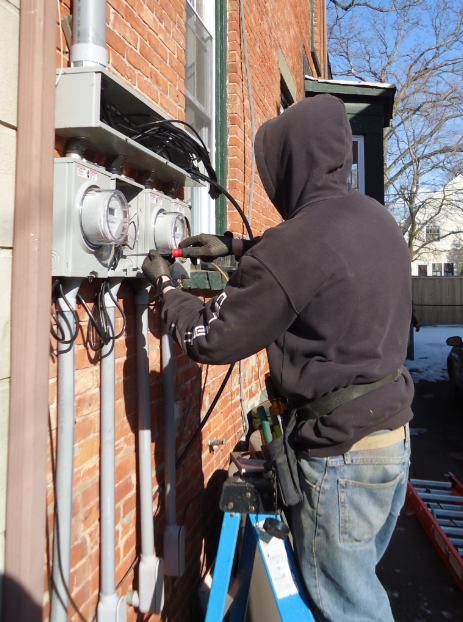 Monmouth County Environmental Control System Installation | AC
Central systems are more convenient, cleaner and quieter than window AC units. Lots of homeowners are making the switch from window units to a full home system. After the summer is over, homeowners have to pull the unit from the window, always a messy, nasty job. Then they have to find somewhere to store it till the following year. Window units are bulky, inconvenient, and subject to dust, mold and mildew. Inside your home, window AC units are unattractive, and you lose use of the window for an entire season. Call a local electrician and make the switch from window units and save space and hassle.
Monmouth County Environmental Control System Installation | Heating
Temperatures can be fickle in the Northeast. Fall and spring conditions can sometimes be as extreme as winter and summer. When you never know which way the mercury will go, having temperature control at your fingertips makes comfort easier. You can easily keep your home at a constant, comfortable temperature with a whole house heating and cooling system. Also, you can vary the temperature of different rooms, according to people's personal preferences. Home heating systems are easy to maintain, and energy efficient, so your energy bills will feel the difference, too. In any weather, comfort and warmth can be a finger touch away.
Monmouth County Environmental Control System Installation | Professionalism
Dealing with electricity takes training and expertise, so you should always leave this kind of work to professionals. When you are looking for a reputable electrical company a little homework goes a long way. Make sure to hire a licensed, insured company to protect yourself and your property and to guarantee peace of mind. Read online reviews and look at photos of work they have carried out. Don't be afraid to ask for a free quote, any reputable company will be more than happy to supply one. With simple steps such as these, you can be sure of hiring someone you are comfortable with.
To keep your home at a comfortable temperature any time of year, consider installing one system that does it all. Heating your home during harsh winter conditions, and cooling it in the height of summer, is possible. Save yourself time and stress by replacing old, noisy, dingy window AC units. One system can keep your home and family comfortable, and make your wallet more comfortable, too. Window AC units don't cool efficiently, and let in the cold if you don't remove them. They are bulky, dirty, and difficult to install or remove. In the cold months you can easily keep your family warm and cozy. For convenience, and to save on energy bills, call a Monmouth County environmental control system installation company today.