Many people overlook the benefits of Holmdel outdoor lighting for their home. A day of fun can come to a premature end due to your limited sight. Whether you're barbecuing, roasting marshmallows, watching your kids jump on the trampoline, or gazing up at a meteor shower, having the proper Holmdel outdoor lighting will maximize your experience! Below are the top reasons to consider Holmdel outdoor lighting
Reasons to Consider Holmdel Outdoor Lighting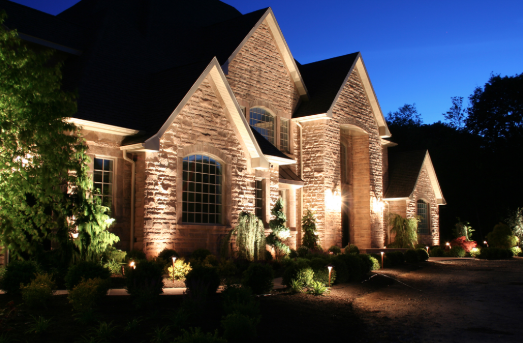 You & Your Guests Will Feel Safer:
Before you install your Holmdel outdoor lighting, consider how you use your outdoor space. For example, if you have a patio, deck, or pool area, consider installing zoned lighting, which highlights a designated area. You'll also want to illuminate areas such as your driveway, garage, sidewalk, and entry way. All of these areas are important to light to ensure safe navigation and prevent a trip to the emergency room. Without proper lighting, one could trip over a hidden step, fall off the deck or even overcook the steaks! By installing the right Holmdel outdoor lighting fixtures in the right locations, you'll eliminate all the dark and creepy spaces, increasing safety and peace of mind.
You Will Increase Functionality:
When you add flood lights to your back patio, deck or front lawn, you'll be able take full advantage of these spaces. Instead of having to go inside when dusk comes, you'll be able to relax with your friends and family outside for as long as you like. You could even enjoy a nice dinner around the patio table.
Increase home security.
A well-lit yard and landscape deters unwanted guests from coming onto your property.  There are numerous types of lights you can install to increase home security:
Flood lights with motion sensors on the sides of your home
Landscape lighting
Garden lights with motion sensors
Lights with timers
Post lights
Spot lights
Dusk to dawn lights
Many homeowners make the mistake of adding security lights to the front of the home while ignoring the back. The back of your home can be one of the most vulnerable places because of fencing, so make sure you install lighting in this area as well. When deciding where to install your Holmdel outdoor lighting, determine the darkest areas of your home as well as any places where an intruder could enter.
You Will Enhance Your Home's Curb Appeal:
Your home is one of your most prized possessions. You've spent countless hours perfecting the exterior of your home as well as your lawn and garden. You can highlight the best features of your home by installing uplights, garden lighting and low voltage exterior lighting around your trees and shrubs. Not only will the perfect lights add appeal to your home, it will add an undeniable sense of warmth too.
Looking for a Professional to Install Holmdel Outdoor Lighting?
The Mikulka family has been serving the electrical needs of homeowners and businesses in Marlboro and Central New Jersey for over 25 years. We take pride in the reputation we have built and strive to maintain our standard of excellence in every project, no matter how big or how small. From design to finish, Mikulka Electric, Inc. provides the expertise to ensure your electrical project is completed on time and on budget. Service towns in the Monmouth County, NJ area include Marlboro, Colts Neck, Aberdeen, Matawan, Holmdel, Middletown, Manalapan, Freehold, and many more. For more information, you can contact us today at (732) 363-8954 or visit our website.
Monmouth County Electrical Repairs
Related Posts:
Monmouth County Exterior Lighting