If you own a home, you probably own a yard. No matter what the size of your property, outdoor lighting can transform the look and feel of your yard. Outdoor lighting can illuminate the front of your home, light up pathways for safety and beauty, or subtly accent landscape features such as fountains and flower beds. If you have recently remodeled the front of your home, don't leave it in the dark, show it off. Whether your home needs an upgrade of interior or exterior lighting, a lighting professional can guide you in your design choice. A Rumson outdoor lighting expert can help illuminate your property to its best advantage.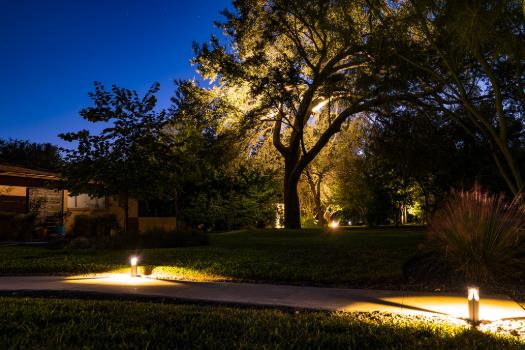 Rumson Outdoor Lighting | Plan Ahead
The first step to any home improvements is to plan out exactly what your goal is. Make a simple map of your backyard, then consider your outdoor lighting needs. Do you want to place motion sensors by the garage or front door? Lights with motion sensors can save on your electric bill, while lighting your way safely to the door. Motion sensors can also warn you if anyone shows up on your property uninvited. Maybe your next goal is simply to light up a patio or deck. Perhaps you want something more glamorous in the way of lighting to enhance a flower garden. Planning ahead will save time and money.
Rumson Outdoor Lighting | Adding Ambiance
What kind of mood are you looking to create? Are you looking for something subtle, or are you looking to add dramatic flair to your yard? Do you have a beautiful tree in your yard? When you illuminate trees they become a stunning focal point of your landscape. Do you love to garden? Soft lights among flower beds can add a beautiful accent, while showcasing all your hard work and dedication. The backyard can be a very social spot during the summer, but you shouldn't have to stop the party because it's getting dark. You can enjoy your yard year round with outdoor lighting. Enjoy the warm glow of the lights on a beautiful fall evening, and brighten it up on a cold winter day.
Rumson Outdoor Lighting | Where to Place Lighting
When you are considering which lighting to use, you imagine what the effect will be from the outside, but what about from inside your home? Don't forget to factor in that you will be enjoying the lighting even when you are not outside. When you make a plan, look at the yard from all angles. What will you see from the windows? Outdoor lighting should be appealing from everywhere. You do not want to be blinded by harsh lights every time you stand at the kitchen sink and look out. Also, be considerate of your neighbors or people driving in your neighborhood. Lighting is for accent, but it is also for safety.
No matter how bright or subdued, outdoor lighting can transform an outside space into a backyard oasis. Lighting can create many moods. It can make a space a fun, bright place to enjoy time with friends and family. It can also make a mellow, softly accented garden that focuses on the landscapes you want to bring attention to. Outdoor lighting means enjoying the space longer throughout the year, whatever the season. Your yard is an extension of your home, and should be given the same care and planning. To light up the exterior of your home, contact a Rumson outdoor lighting specialist to help you with all your lighting needs. Add some outdoor lighting to add curb appeal, and showcase your biggest investment, your home.
Monmouth County Electrical Repairs
Related Posts:
Monmouth County Exterior Lighting