Is it time to seek out the help of interior exterior lighting professionals? Are you looking to enhance the appearance of your home or business? Property owners know that Keyport outdoor lighting is a serious subject. Keeping residential and commercial properties safe and secure at night is essential. Do you need to add lighting to certain areas? Are you dealing with a lack of control for different sectors? Is it time to fully integrate your outdoor lights with the security system? Home and business owners have a variety of newer products available. You can learn from the professionals how enhancements can improve your outdoor lighting. Upgrading your electrical system can also save you money on your utility bill.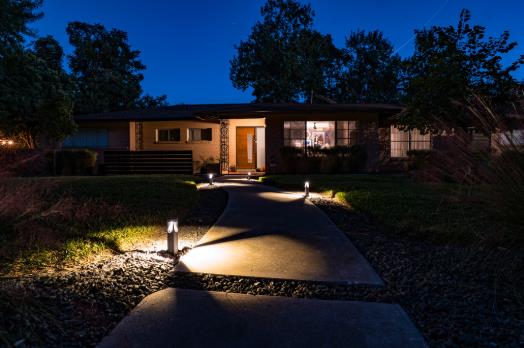 Lighting for safety | Keyport Outdoor Lighting
Keeping your property safe at night is one of the highest priorities for outdoor lighting. Can you see all of the exterior doors clearly? Does the lighting cast shadows over the keyholes when you reach the door? Are pathways and steps visible even during rain storms? Effective exterior lighting makes it easy to move around and gain access without difficulty. Are your lights blinding you at certain points because of the direction of the beams? Electrical installation specialists can ensure that you don't have excessive glare while trying to navigate your property.
Security professionals have different perspectives when it comes to lighting for safety. Your choice in security lighting depends upon the circumstances of the property. Business owners want the lighting to compliment camera angles throughout the entire property. You can install brighter lights that turn on during a breach in security. Your local law enforcement will offer suggestions for security lighting.
Remote control and timers | Keyport Outdoor Lighting
Are you able to activate the perimeter lights around your property even when you're not at home? Does your property have timers set to automatically activate the outdoor lights? Using remote control and timers is a convenient way to ensure your residential and commercial properties stay lit at night.
You can keep utility costs down in several ways. LED lights are low cost and very bright. You can setup specific zones based on needs. Do you need more light at specific times? You can use timers and motion sensors to limit outdoor floodlight usage. Are you considering a remote control system? Property owners love the freedom of having complete control of their outdoor lights from anywhere.
Are you satisfied with your outdoor lighting system | Keyport Outdoor Lighting
Is it time to invest in the enhancement of your outdoor lighting system? Are you currently searching for solutions to fix a safety issue with enhanced lighting? Do you find the variety of options overwhelming? Speaking to your local electrical lighting specialists is the best place to start. Your property needs careful inspection to find the best solution within your budget. Are you currently in new construction? Whether adding another structure or enlarging an existing building, your outdoor lighting needs are changing.
Are you satisfied with your Keyport outdoor lighting system? Is it time to speak with the professionals that specialize in exterior lighting? We have over two decades of experience in outdoor lighting. Our experience helps ensure your investment is a wise one. You deserve the best products and service available anywhere. Give us a call today and discover why our name is trusted when it comes to all things electrical. We guarantee you will completely satisfied with our work. The size of your project is not important. We believe that quality work done correctly benefits the entire community. Our staff is ready and willing to answer all your questions.
Monmouth County Electrical Repairs
Related Posts:
Monmouth County Exterior Lighting