Belmar Residential Electrician. Looking to hire the best Belmar Residential Electrician? Contact Mikulka Electric, Inc. today for your residential electrical services. There are many reasons why you may need to hire a professional residential electrician to carry out some electrical repairs and ensure the safety of your home. Because most homeowners are aware of the limited knowledge of electrical wiring and how electricity works, it is crucial to contact a professional electrician for all your electrical needs.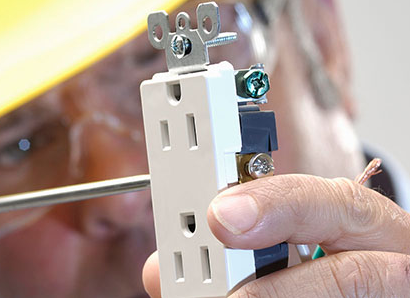 Belmar Residential Electrician | Circuit Breakers
Unless your home is newly built, it is likely that your home's electrical system needs some upgrading and repairs. There are many new electrical codes that keep homes safe and electricians are concerned about homes that have older electrical systems. If a homeowner is finding that their electrical circuit breakers are tripping often, or the fuses are blowing out more than occasionally, an electrician should be called. This is happening because it is drawing more current than they are able to safely provide. These two situations may be indicating that there is a potentially dangerous issue with one or more of the circuits and they need to be repaired as soon as possible by a professional and experienced electrician.
Belmar Residential Electrician | Power Strength
If you are noticing that the lights inside your home are flickering or seem to be very dim especially when a particular appliance is used, it may be taking an excessive amount of electrical current and may need its own circuit. An experienced and trained electrician would be able to evaluate the situation and properly designate the appliance its own dedicated circuit. Some areas around the house can have an overloaded power board which demands a great amount of electrical power which forces the electrical system to work beyond the capacity it is designed to. An experienced electrician can provide additional circuits to make your home safer.
Belmar Residential Electrician | Electrical Cords Everywhere
There are many homes today that are using many electrical cords and placing them under rugs and along the walls. There is a significant electrical risk and it may mean that more power outlets are needed in your home. Contact an electrician and have them install more outlets throughout the home not only to improve the appearance but also to add safety to your home.
Belmar Residential Electrician | Three-Prong Plugs
Most homes have up to date appliances which all have three- prong plugs. Older homes that have not updated their electrical system may still have old outlets throughout the home. Call an electrician to accommodate three-prong grounded plugs. Once an electrician updates the electrical system the home is now fully and sufficiently grounded and your home is safe.
Belmar Residential Electrician | Shock
If you are feeling that switches and other electrical surface areas are warm to the touch and if outlets and switches are giving off electric shocks, it may mean that there is excessive demand on that circuit. Older homes have aluminum wiring which means the electrical wiring in your home should be checked frequently. But any strange feeling when you touch an outlet or switch should be checked by an electrician.
Searching for the best Belmar Residential Electrician? Mikulka Electric, Inc. is the place to contact. Because electrical systems are so dangerous it is very important that a qualified electrician evaluates and inspects the system in your home. Only a qualified and insured electrician can safely provide the testing needed of the electrical system necessary to guarantee safety and protection of your home. Mikulka Electric, Inc. have been providing electrical needs of homes and business for over 25 years. Our relationship with our customers is very important to us. 100% customer satisfaction is our daily goal. Give us a call today or come and visit our website.
Monmouth County Electrical Repairs
Related Posts:
Monmouth County Electrical Installation
Old Bridge Residential Electrician
Holmdel Residential Electrician
Tinton Falls Residential Electrician
Marlboro Residential Electrician
Middletown Residential Electrician