Are you in the market for a Tinton Falls residential electrician? Mikulka Electric, Inc. can meet all your residential electrical services. Your electrical system might seem fine, but you could be sitting on a time bomb. To avoid and prevent any dangerous situation, it is best to get your electrical system inspected by an experienced professional electrician. There are a few clues that show you may need an electrician to come to your home for a visit.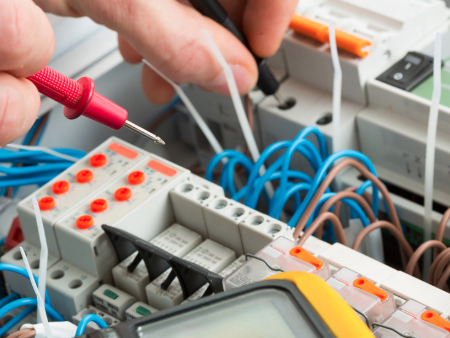 Tinton Falls Residential Electrician | Shocks
If you are finding that outlets or switches feel warm to the touch or you get a slight shock, you need to contact an electrician right away. Heated outlets that cause a shock may mean that they are being overloaded or there could be an internal wiring problem. It is always wise to contact an electrician to inspect why this is happening.
Tinton Falls Residential Electrician | Darkness
If your electrical circuit breakers are tripping too often, you need an electrician. It may be the appliance being connected may be blowing a fuse and has too much power, or there could also be a potentially dangerous fault in one of the circuits in your home. Your fuses should not be blowing out, it is not normal. It is time for you to contact your local electrician for a full assessment.
Tinton Falls Residential Electrician | Wiring
If your home was built more than 20 years age, the wiring may need some upgrade. Some old homes are not grounded and still have old style tube wiring. This can create a safety hazard. Contact your local electrician to assess and inspect your home. Also, if you have living areas with extension wires that are being disguised under rugs, it may be time to get new outlets. Wires exposed can cause falls and even start an electrical fire.
Tinton Falls Residential Electrician | Plugs
Older homes usually have only two prong plug outlets. In this day in age, a three-prong outlet is necessary. Most appliances have three prongs. It would be easier to change all the outlet to three-prong outlets, so you do not have any future issues. Using too many extension cords can be overloading your circuits. Overusing of power can cause your electrical system to be working past the capacity and can cause a fire. Ask your residential electrician to install more outlets for your safety and to minimize electrical issues in the future. An electrician's job is to shield you from the danger of the dangerous stuff that's connected with electrics.
Are you in need of a Tinton Falls Residential Electrician? Mikulka Electric, Inc. is the place to call. We have been serving families with their electrical needs for over 25 years. We take pride in the reputation that we have established with all our customers. No matter how big or small a project may be, we tackle them all. From design to finish, Mikulka Electric, Inc. delivers the expertise to make sure your electrical project is completed on time and on budget. 100% customer satisfaction is our daily goal. The staff at Mikulka Electric, Inc. knows that a job is not complete until the customer is 100% satisfied. Our relationship with our customers is very important to us. Our highly trained residential and commercial electricians have the knowledge and experience to fix electrical problems. Our electricians approach all their jobs with the same passion. Whether you need a light switch changed or an installation of a GENERAC Generator, Mikulka Electric, Inc. can handle it all! No matter what electrical issues you may be having, Mikulka Electric, Inc. has a solution for you. Give us a call today at (732)363-8954. We look forward to serving your electrical needs!
Monmouth County Electrical Repairs
Related Posts:
Monmouth County Electrical Installation
Holmdel Residential Electrician
Marlboro Residential Electrician
Middletown Residential Electrician