Monmouth County Residential Outdoor Lighting. Thinking of adding interior and exterior lighting to your home? There are numerous reasons you may want to install or upgrade your outdoor lighting. Outdoor lighting increases safety and security and it also highlights the beautiful areas around your landscaping. Homeowners spend a lot of time and money making their yard and home exterior look good, yet at night the beauty is not visible because of the lack of lighting. A homeowner would want to invest in landscape lighting and exterior lighting to enhance their home.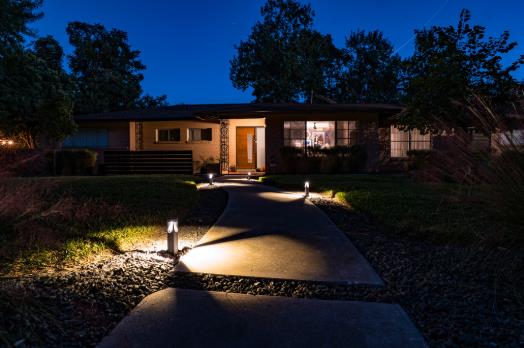 Monmouth County Residential Outdoor Lighting | Curb Appeal
When exterior lighting is properly installed in the front and backyard it enhances all aspects of your home exterior and landscape. Outdoor lighting can also add security and value to your home. Adding outdoor lighting is a true investment for your home. Outdoor lighting can be added to your favorite tree or bush which, brings out the beauty surrounding your home. Your home will be more inviting to your guests, therefore using the outdoors more often. A well outdoor lighting plan for your home transforms a dark home into an illuminated experience.
Monmouth County Residential Outdoor Lighting | Security
Installing outdoor lighting to your home gives the home more lighting and brightness scaring away any potential burglars. Landscape lighting is a great way to prevent thieves that are looking and seeking for dark areas around your home. A well-lit home is a safe home. When a home has enough lighting, any strangers lurking around can be seen by neighbors or people passing by. Landscape lighting allows a homeowner and guest a better view at night when arriving home. Well-lit surroundings of your home will help spot anyone moving around the outside portion of the front or back yard. At times insurance companies offer discounts for exterior lighting. This encourages a homeowner to have outdoor lighting installed.
Monmouth County Residential Outdoor Lighting | Safety
Landscape lighting helps with visibility and can help prevent family and guests from tripping and falling. Outdoor parties and activities that happening at night, can be unsafe because of uneven or cracked paths. A homeowner is liable for people having accidents in their homes and falling. To avoid accidents and casualties a well thought out lighting plan is very important. A professional landscape designer will know where to place the lighting. Be careful to have exterior lighting near swimming pools or fountains, which can attract bugs. A professional landscaper will avoid lighting fixtures near any flammable substances as wood chips and dried grass.
Monmouth County Residential Outdoor Lighting | Value of Your Home
It doesn't matter the size or design of your home; outdoor lighting brings out the beauty with added style and dimension. Landscape lighting rises the value of any home, which is a great help when making a decision to sell your home. When you add outdoor lighting to your home it makes it more attractive to a potential buyer.
Searching for the best Monmouth County Residential Outdoor Lighting? Mikulka Electric, Inc is the place to contact. The Mikulka family has been serving the electrical needs of homeowners for over 25 years. We take pride in the reputation that we have built with all our customers. No matter how big or small, we strive to maintain our standard of excellence in every project. The relationship with our customers is very important to us. 100% customer satisfaction is our daily goal. The staff at Mikulka Electric, Inc. knows knows that a job is not complete until the customer is 100% satisfied. Give us a call today. We look forward to serving your electrical needs!
Monmouth County Electrical Repairs
Related Posts:
Monmouth County Electrical Installation
Holmdel Residential Electrician
Monmouth County Residential Electrician
Marlboro Residential Electrician
Monmouth County EV Charging Station Installation
Monmouth County Residential Electrical Services