In the market for a Middletown Generator Installation? There are many different types of generators a professional can install in your home. The installation of a home generator will always protect the inside of your home and keep you and your family out of the dark. There are some things to be aware of when choosing a generator for your home.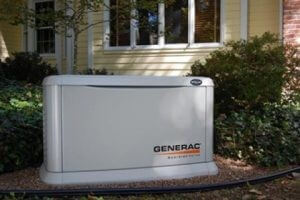 Middletown Generator Installation | Generator Needs
In your home each appliance you use uses a certain wattage. So before purchasing a generator it is best to try to calculate the wattage that you need in case of a blackout. The generator you choose should be able to provide power for all the important appliances you have in your home. As you make a list of the appliances that need to be working in a power outage situation, write down the exact wattage it uses.
Middletown Generator Installation | Standby Generator
There are several decisions that you will need to make when purchasing a new generator. These include prices, features and strength.  A standby generator is what you want if you do not want to be caught in a power outage. A standby generator automatically takes over when the electricity goes off. It does require a professional installation specialist and a natural gas or propane fuel source.
Middletown Generator Installation | Portable Generator
A portable generator are easily wheeled around the property of your home, where they are needed most. Depending on the size of the generator they may only be able to provide power for small appliances. These run on liquid gas or propane which may not be readily available in a power outage.
Middletown Generator Installation | Inverter Generator
Inverter generators are lighter and quieter than portable generators. These are more popular during camping trips, but they are not as powerful as portable ones.
Middletown Generator Installation | Transfer Switch
The generator itself is not the only expensive equipment to connect to your home and appliances. You still need heavy duty extension cords or a transfer switch. A transfer switch is a part that attaches to your home's electrical panel and allows you the homeowner, to connect a generator to your home with a single cable. It is definitely safer than using extension cords that can interfere and cause accidents.
Middletown Generator Installation | Generator Features
Another thing to consider when purchasing a generator is looking at all the features they may have. These are the features among some generator models. They have fuel level gauges, electric starter, surge protection, wheels and pull handles and fuel conversion systems. The generator always comes with an owner's manual which is key. Once you have decided and done all the research needed to find the best generator, contact a professional for the installation. A professional installer will properly ground the generator, which protects the generator from elements around it. A professional installer does routine maintenance and installs transfer switches and standby systems. Your generator will be most reliable under the care of a licensed, knowledgeable electrician.
Searching for a Middletown Generator Installation professional? Look no further than Mikulka Electric, Inc. Our relationship with our customers is important to us. We treat each customer who calls us as if they were a part of the Mikulka family. From the initial contact to our follow-up, we strive to be available, convenient and responsive to all our customers. 100% customer satisfaction is our upmost goal. The staff at Mikulka Electric, Inc knows that a job is not complete until the customer is 100% satisfied. Our experienced and skilled technicians approach each job with the same passion. Give us a call today!
Monmouth County Electrical Repairs
Related Posts:
Marlboro Generator Installation
Monmouth County Electrical Installation
Holmdel Residential Electrician
Marlboro Residential Electrician