When it comes to Marlboro generator installation, home owners want quality workmanship and friendly customer service. Obtaining the services of a Marlboro commercial electrician for the professional installation and maintenance of your generator is important. Winter is a popular time for purchasing and installing home generators. Home owners appreciate continuous power especially when the weather turns colder. Getting a home generator for backup and emergency power solves the problem of losing commercial electricity during a big storm. Knowing that your home generator has a service and monitoring plan adds confidence for you and your family. Is your old generator ready for another season? Do you have a need for an upgrade? Are you currently shopping around for your first home generator? You deserve year round comfort and peace of mind that comes from a reliable home generator.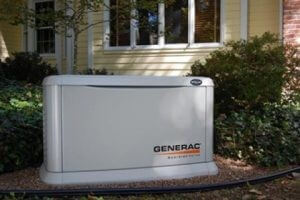 Monitoring service at your fingertips | Marlboro Generator Installation
New home generators allow for communications to the commercial monitoring station as well as smart phones. Home owners can receive notifications via text or phone call when the system detects an issue. The service contractor is also notified and dispatched for emergency maintenance even if you are away. Having an awareness of your power situation back home, while you're relaxing on the beach is a rewarding experience.
Do you know of a family member, friend or neighbor that lost power during a storm while away? Losing power means heating systems shut down and in some cases they stay down allowing pipes to freeze. Your generator monitoring system alerts electricians when unusual conditions arise whether your home is on generator or commercial power. Your home is completely protected with constant communications to your monitoring service and potentially to your phone.
Scheduled and emergency maintenance are covered | Marlboro Generator Installation
Keeping your new generator running smoothly prevents the need for emergency maintenance and continuous monitoring enhances reliability. Having a maintenance contract always ensures that in the event of an emergency, your electrician has you covered. You hope an emergency repair is never necessary but planning for such an event is still recommended.
Your new generator has a life expectancy of more than thirty years while receiving properly scheduled maintenance. Most home owners will only own one or two generators in their lifetime. Keeping your system in good working order is the best possible way to protect your investment. Your primary objective is protecting your home and family.
Choosing the right professionals | Marlboro Generator Installation
Speaking to family, friends and neighbors who own home generators helps home owners narrow down the list of installation specialists. Home owners love providing recommendations for the benefit of contractors who are worthy of such attention. You can even look online for feedback from people in local communities that are busy sharing their experiences. Are you looking for specific brands that people you know have suggested? Do you want your system tied into your home security? Your home generator installation company has the answers to all of your questions.
We specialize in Marlboro generator installation and have a highly skilled team of certified electricians available. Our crew is fully trained and very friendly. Providing quality service along with complete customer satisfaction is how we keep our reputation strong in the community. You deserve the best service and support for your home generator. Whether you are planning for service on an existing unit, or looking for new installation we can help. You can give us a call today and discover why our customers rave about our service. Do you have questions and concerns about installing a new generator? We look forward to helping you find exactly what you need.
Monmouth County Electrical Repairs
Related Posts:
Middletown Generator Installation
Monmouth County Electrical Installation
Holmdel Residential Electrician