Thinking of hiring a Monmouth County Electrician? When a home or business is in need of electrical work, it is best to hire a professional electrician. It is best to look for a residential electric services for your home. Here are a few benefits of working with an electrician.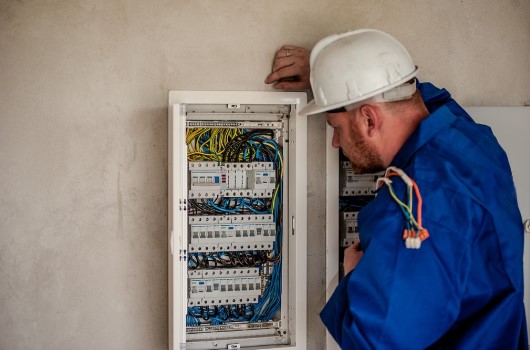 Monmouth County Electrician | Experience
An electrician has the experience to tackle any project. With their years of experience and knowledge of working on electrical systems, you can rest assure that any electrical need you may have in your home or business will be completed correctly. When electrical work is not done correctly, there is a risk of accidents or damage to your property. An electrician knows how to keep your home and your family safe. Hiring an electrician guarantees that they have the experience and training needed to get the job done.
Monmouth County Electrician | Save Money and Time
When hiring an electrician to work on your home or business, you can have peace of mind in knowing that they are able to get products at a lower cost. Therefore, they can save you money. They will spend the money on high-quality electrical products. A reliable electrician can save you time and money. As a result, it guarantees that the problem will be taken care of effectively and efficiently. When a job is not done correctly and in accordance with rules and regulations, it can cost more to fix the issue. A homeowner that is not familiar with an electrical system, needs to hire a professional. Hiring a professional that can quickly find and solve the problem is wise.
Monmouth County Electrician | Miscellaneous
An electrician has certification, licensing and training to deliver above and beyond your expectations. When searching for an electrician to do work on your home, make sure to ask them to provide you with their certification and licensing. A certificate and license are the proof you need to make sure the job will be done right. Make sure when hiring an electrician, he is insured. As a result, this insurance will cover any injuries that may happen during the project. He will be responsible for their own injuries through their insurance. Any medical bills incurred, or compensation lost due to injuries on the job, will be the electrician's responsibility.
Monmouth County Electrician | Safety on the Job
Safety while on the job is important. Working with any electricity can be dangerous. Any electrical work needs to be approached with the right expertise and with carefulness. If there is work needed in your home and you are not sure as to how to approach it, don't' wait and contact an electrician.  Any electrical work not done correctly, can lead to a safety hazard in your home. To not waste money or time, contacting an electrician from the beginning is best. All electrical work needs to be done correctly the first time. When working on an electrical job, it is important for the electrician to know what kind of project they will be working on. Having an inspection to see what exactly is needed is important.
Searching for the best Monmouth County Electrician? Contact Mikulka Electric. The Mikulka family has been serving the electrical needs of homeowners and businesses in New Jersey for over 25 years. 100% customer satisfaction is our daily goal. The staff at Mikulka Electric knows that a job is not complete until the customer is 100% satisfied. Our experienced and skilled electricians approach each job with the same enthusiasm. Whether it's an installation of a new light switch or an installation of a generator, Mikulka Electric can handle it! We look forward to serving your electrical needs!
Monmouth County Commercial Electricians
Related Posts:
Monmouth County Generator Service
Monmouth County Emergency Electrical Repair
Monmouth County Commercial Electrician
Holmdel Commercial Electrician
Old Bridge Commercial Electrician
Freehold Commercial Electrician
Matawan Commercial Electrician
Colts Neck Commercial Electrician
Monmouth County Building Automation System Installation Contractors
Monmouth County Generator Service
Monmouth County Outdoor Lighting