Thinking of having a Monmouth County Control System Installation? At Mikulka Electric, Inc, we provide all your commercial electrical services. For instance, in a typical convenience store, the HVAC systems, refrigerated cases and lighting system are taken care of separately and not connected. If they have a refrigeration system often times it is a standalone. In some commercial facilities, they manage the lighting control manually. You can save up to 20% when you install a control system at a commercial facility. A good control system is beneficial when you realize all the ways it can improve efficiency and ways to improve the operations.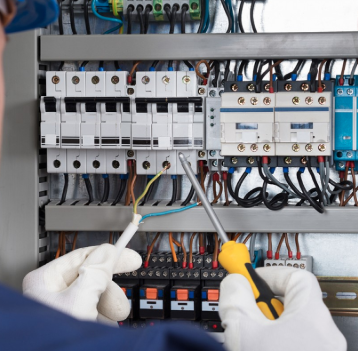 Monmouth County Control System Installation | Controls
The inputs and outputs of the electrical and the equipment connection are managed by the control. The top three key areas in a control system plan are the refrigeration, lighting and heating/cooling. As a result, the control system works better and is cost effective when all three are combined.
Monmouth County Control System Installation | Refrigeration Controls
A professional electrician can properly install an efficient control system. First, install an electronic control on the refrigeration system to reduce run time on the compressor. Secondly, it will monitor when doors open and close. In conclusion, using the monitoring data from the refrigeration system controls and decreases maintenance expense.
Monmouth County Control System Installation | Lighting Controls
A commercial facility with lighting controls can always make sure that lights are turned on or off. Afterwards, you can have lighting schedules to work automatically and maintained through a control system. Having a professional electrician install a control system will ensure that you will be able to save time and money as things are functioning properly and efficiently.
Monmouth County Control System Installation | Heating and Air Conditioner Controls
The highest benefit of having a control system on the heating and cooling systems is to be able to program the thermostat levels correctly. This will also save you money since it will maintain a normal temperature throughout the day. After that, the control will adjust the heating and cooling system when people are not there and you have an empty building.
Monmouth County Control System Installation | Experience and Skills
Our experienced and skilled electricians at Mikulka Electric, Inc. approach each job with the same enthusiasm. Whether it's an installation of a new light switch or an installation of a control system, Mikulka Electric can handle it! Whether it's a minor residential repair or a largescale commercial project, Mikulka Electric can do it! Being equipped with the expertise, experience and knowledgeable staff we get the job done right every time. We specialize in custom HVAC control systems that allow you total control of your HVAC system, lighting and more. At the same time we provide you with many opportunities to conserve energy in your building and provide your employees with a more comfortable environment. Searching for the best Monmouth County Control System Installation company? Mikulka Electric, Inc. will get it done for you. We have been serving the electrical needs of homeowners and businesses for over 25 years in Central New Jersey and the Marlboro area. From design to finish, Mikulka Electric, Inc. gives every customer the expertise to make sure every electrical job is completed on time. Our staff at Mikulka Electric, Inc. knows that a job is not complete until the customer is 100% satisfied. Above all we take pride in the relationship we have with each of our customers. Ultimately, treating our customers as part of the Mikulka Electric, Inc family is priority. 100% customer satisfaction is our daily goal. We look forward to serving your electrical needs!
Monmouth County Electrical Repairs
Related Posts:
Monmouth County Electrical Installation
Holmdel Residential Electrician
Marlboro Residential Electrician
Monmouth County Residential Electrical Repair  
Monmouth County Electric Power Control