Searching for the best Middletown Commercial LED Outdoor Lighting? Businesses are always looking for commercial electrical services and ways to save money. Whether a business is small or big the bottom line is always the priority. Some companies strive to reduce energy usage. One great way to get started on saving energy and money in your business is by replacing your lighting fixtures to LED lighting. There are a few benefits that a commercial business will enjoy when upgrading their light fixtures to LED.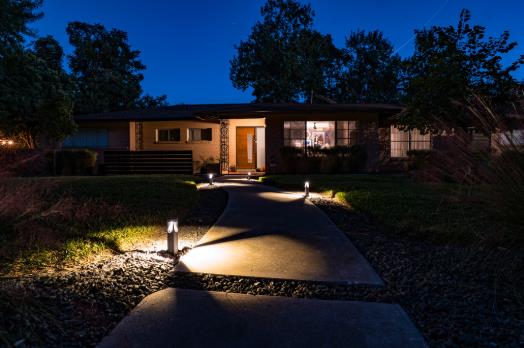 Middletown Commercial LED Outdoor Lighting | Reduce Energy
When changing to LED products there is a drastic reduction in energy use. LED lights require less energy. This can result in huge savings in your utility bills over time, especially for businesses that use a lot of light fixtures. Switching to LEDs do not require new fixtures. LED light bulbs will fit in standard fixtures. While you may spend more up front, the long-term savings will compensate for the initial expense of updating commercial lighting. LED has estimated life of 25,000 hours of lighting capability and in some cases, they can reach 50,000 hours depending on the manufacturer and product.
Middletown Commercial LED Outdoor Lighting | Quality
In addition to cost savings LEDs are also more convenient. In the time you would replace 50 incandescent bulbs, you will replace an LED light. This is great for a retail store, an office building or a lighting company. LEDs provide immediate light where other lights can take several minutes to reach full brightness. LEDs have improved significantly in the areas of color temperature and color execution. LED lights also provide focused lighting capability that is perfect for all types of lighting. LEDs do not get hot or produce UV emissions like other light bulbs.
Middletown Commercial LED Outdoor Lighting | Recycling
LED light bulbs can be recycled when they reach the end of their usable life. The eco-friendly features do not end when the light bulb finally burns out. Unlike most fluorescent light bulbs that contain mercury, LED lights are constructed free of any form of toxic chemicals.
Middletown Commercial LED Outdoor Lighting | Weather
In parts of the country that have a good portion of the year with cold temperatures, LED light bulbs love the cold weather. The LED light bulbs is a perfect fit for outdoor applications such as parking lots.
Middletown Commercial LED Outdoor Lighting | Appearance
Outdoor lighting enhances the look of a home or business. These lights on commercial properties create an inviting and colorful curb appeal. A professional specializes in both residential and commercial lighting, with a mastery of how to properly design and install them to suit the customer's purpose. LED lighting systems not only bring bright and long-lasting lighting but they are also energy efficient. It is one thing to have bright lights brightening the outside of a building, but it is another thing to use those lights for decorative purposes. Commercial building owners looking to enhance the beauty of their property using exterior lighting choose LED lighting.
Looking for the best Middletown Commercial LED Outdoor Lighting? Looking for a way to make a dark and dull property shine? Light up your property with the help of Mikulka Electric, Inc. Whether you want to install pathway lights or garden lights at your home or business facility, Mikulka Electric, Inc has the skills and lighting materials to get the job done. Mikulka Electric, Inc. makes outdoor lighting easy and affordable for homeowners as well as business owners. Reach out to our trained electricians today to discuss your outdoor lighting vision and budget specifications. You can count on us to install premium lights that suit your property and budget. Call us today!!
Monmouth County Electrical Repairs
Related Posts:
Monmouth County Exterior Lighting
Marlboro Commercial LED Outdoor Lighting
Old Bridge Parking Lot Lighting