Looking for the best Holmdel LED Outdoor Lighting? LED lights are showing up more and more in landscape lighting systems. Whether you are looking for interior and exterior lighting, Mikulka Electric, Inc is the place to call. There are many advantages to upgrading your landscape outdoor lighting to LED. Here is a list of a few: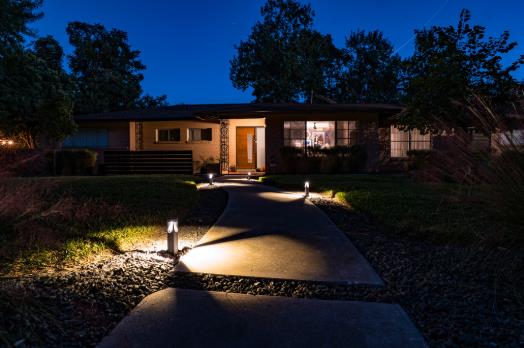 Holmdel LED Outdoor Lighting | Efficiency
Lights that light up your walkway, porch or around the landscape of your home are best when they are LED lighting. You will save a lot of money on electricity if you upgrade to LED landscape lighting. They also will last years longer than traditional lighting.
Holmdel LED Outdoor Lighting | Low Maintenance
Another benefit to upgrade to LED outdoor lighting is reduced maintenance for your landscape lighting system. You may be paying more for the light bulbs now, but with LED lights you do not need to change them often. LED replacement lights may last more than 10 years. LED lights are very durable. LED bulbs have a sold plastic cover, so they will not shatter if there is an impact of something hitting them. LED lighting resists shocks, any vibrations and all types of weather. They will not break in extreme cold weather. It will not shorten the life of the LED light if you switch the lights on and off during Christmas display or party effect.
Holmdel LED Outdoor Lighting | Reduced Heat
LED lights produce less heat that traditional bulbs. Having LED lights on a deck or porch can make it comfortable and less heated for you and your guests. When you have LED lights near your plants, you do not have to worry about them getting burned. These lights also eliminate fire hazard that other electrical lights may produce. LED lights do not have the dangerous materials that some other lights have, like mercury. LED lights are recyclable, and they are safe to just put in the trash. LED lights have improved light quality that brighten immediately when turned on, there is no waiting.
Holmdel LED Outdoor Lighting | Electrical
LED outdoor lights need lower voltage power to generate the same level of light as a traditional light system. LED lighting come in a large assortment of styles and shapes as traditional bulbs. LED lights use so little power than other traditional light bulbs. LED lights are very energy efficient and you will recuperate the higher purchase price through energy savings over the life of the bulbs. They are eco-friendlier and more durable than traditional bulbs. Switching to LED Lighting you will save more time because of reduced maintenance work. They are safer around plants, children and pets because they generate less heat. Designing a new outdoor lighting system is easier and you do not need many wires or hardware upgrades to support them.
Searching for the best Holmdel LED Outdoor Lighting? Mikulka Electric, Inc is the place to hire for your upgrade lighting. Light up your property with help from Mikulka Electric, Inc. We at Mikulka Electric, Inc. make outdoor lighting easy and affordable for homeowners and business owners in different New Jersey areas. Reach out to our trained electricians today to discuss your outdoor lighting vision and budget information. You can count on us to install premium lights that suits your needs. At Mikulka Electric, Inc. we have been serving the electrical needs of homeowners for over 25 years. We treat each customer who calls as if they were part of the Mikulka family. 100% customer satisfaction is our daily goal. The staff at Mikulka Electric, Inc. knows a job is not complete until the customer is 100% satisfied. Call (732) 363-8954 to schedule your outdoor lighting consultation today.
Monmouth County Electrical Repairs
Related Posts:
Monmouth County Exterior Lighting
Marlboro Commercial LED Outdoor Lighting
Colts Neck LED Outdoor Lighting