Electrical work is serious business that requires quality care, attention, safety and experience. Too often, people believe they can safely cut corners, or do the work all on their own. Some situations can be handled by an individual with even a basic grasp of electrical work. But the risks, in safety and the integrity of electrical devices, can outweigh the benefits. For serious work, particularly when it comes to your home or your business, a professional electrician is invaluable. There are many featured services that electricians can supply that one cannot imitate on their own. The years of experience, and training, and dedication cannot be replicated on the fly. A Freehold Electrician can help with all of that. They can keep your electricity humming smoothly. Your house will have heat, your business will have lights, and vice versa, with a fully functioning electrical system. Professionally maintained, guaranteed to keep running.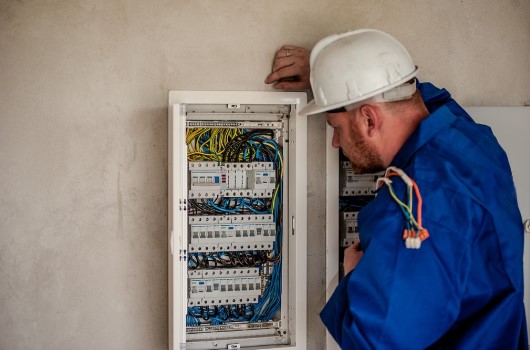 Benefits of hiring a quality electrician | Freehold Electrician
Electrical work is serious business. There are standards and regulations that must be up to code. You might have an idea of which wires to cut, but not necessarily a full understanding of industry paperwork. Fortunately, electricians suffer through all that boring paperwork of codes so that you do not have to. They know how to obtain permits and satisfy inspections. And if things are not up to code, the skin is off their nose, not yours. Assuming nothing bad happens because things aren't up to code. Which is why hiring good electricians is key.
Performing electrical work | Freehold Electrician
As implied earlier, this type of work is not exactly fun and roses. Digging into walls and dealing with replacing and cutting copper wires is no picnic. Electricians put up with it for a living. Electrical work is complicated and can be quite dangerous. Electricians have the knowledge to perform jobs safely. Doing the job yourself might sound like a good idea (cheaper, more convenient, etc.). But when safety is on the line, no expense should be spared. The work is dangerous. The amount of electricity running through even a home current can easily kill a man.
Cost and expense | Freehold Electrician
Most people object to hiring an electrician for the sake of savings. However, hiring an electrician can ultimately save you money. It is easy to set a rate with the electrician who fixes up your residence, a budge they'll stick to. And too often, shoddy electrical work leads to further damage and money. If you get it right the first time, it's a one-time payment. When a handyman is using the wrong equipment, or just poor equipment, damages often occur. Professionals know what to use and when and will keep your property out of the hands of amateurs.
In the end, hiring an electrician is just the most cost-effective, long-lasting, and safe method. House fires and electrocution are not laughing matters. Unprofessional hands can be singed, and property can be ruined, and lives lost if electrical work is not taken seriously. So leave this sort of work to the professionals. They handle their work with quality and care. No sloppiness or shortcuts, at least from a professional you can trust. Make sure you are thorough in your choosing. Look at background checks, and referrals, and the body of work they bring to a table. Hiring a Freehold Electrician may just prove to be the right decision for you in achieving electrical maintenance. In the interest of your property, electricity, and safety, don't try and do this one yourself. Feel at ease by making the safe investment of a quality electrician.
Monmouth County Electrical Repairs
Related Posts:
Monmouth County Electrical Installation
Holmdel Residential Electrician
Monmouth County Residential Electrician
Marlboro Residential Electrician
Monmouth County EV Charging Station Installation
Monmouth County Residential Electrical Services