Looking for the best Asbury Park Commercial Electrician? Commercial electrical services can be found at Mikulka Electric, Inc.Electrical work for a commercial business is different than a residential home. An experienced commercial electrician is useful in establishing the functioning of the electricity in the business and to keep the electricity running if there should be a problem. Here are a few tips to help you choose the right commercial electrician.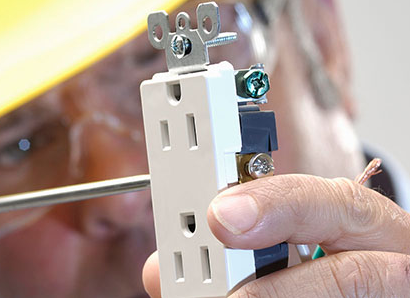 Asbury Park Commercial Electrician | Knowledgeable
Commercial electric work can be a bit complex and unique to the company. A very well trained and experienced electrician can tackle and resolve difficult situations. To make sure you have the best and high-quality results from a commercial electrician and maintain safety, a knowledgeable and experienced electrician is your best choice. It is important that the commercial electrician is able to take on the requests of commercial electric work in terms of knowledge and ability. They need to be able to work in fast changing environments and be flexible when installing or doing repair work. When choosing a good commercial electrician, they should have a team of professionals on the project working together.
Asbury Park Commercial Electrician | Licensing
When choosing the right commercial electrician, it is crucial they hold all the proper licensing and insurance to do the work. They also should be up to code and keep updating their knowledge with any changes in the electricity world.
Asbury Park Commercial Electrician | References
As a result, now that you have a few commercial electricians that you would like to find out more information on, check the reviews and ask for some references. A good reputable commercial electrician has a great deal of people he can give you to contact and find out about his work and work ethics. Also, with the world of the internet, you can easily check reviews that customers have posted about them. Online reviews of your commercial electrical professional work are listed and usually in detail. This will allow the customer to get a better understanding of how the electrician works on commercial jobs.
Asbury Park Commercial Electrician | Teamwork
A good commercial electrician has to be able to communicate and work with a team. When working on a construction project there are many different contractors involved and they all need to be able to work together to achieve the ultimate goal. They need to be able to work amicably to have great results.
Asbury Park Commercial Electrician | Usefulness
In a super busy commercial construction site and with the environment constantly changing, a commercial electrician should be flexible and able to work with any shifts. He needs to be versatile and creative. Most experienced commercial electrician are aware and have knowledge of what actually goes on in a construction site, so they should not have a problem with that. That is why it is even more important when choosing a commercial electrician that has experience and skill. Choosing a commercial electrician with all these traits will make the project a huge success.
Asbury Park Commercial Electrician | Qualifications
While experience is very important another useful requirement is their training and credentials. Make sure that the electrician has the right training, proper license and insurance. Choosing the right electrician for a commercial job, installation or repair can be puzzling at times, but making sure that you fully research all the requirements for a good electrician will prevent any problems in the future.
The best Asbury Park Commercial Electrician can be found at Mikulka Electric, Inc. Mikulka Electric, Inc is a full service electrical contracting company that serves Central New Jersey. We work on minor residential repairs and large commercial projects as well. Our experience and expertise and knowledgeable staff get the job done right all the time. Give us a call today or visit our website.
Monmouth County Commercial Electricians
Related Posts:
Monmouth County Commercial Electrician
Holmdel Commercial Electrician
Old Bridge Commercial Electrician
Freehold Commercial Electrician